Team Event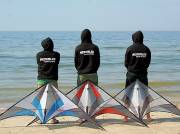 In the weekend of August 28th - 29th,
AERIALIS Team Flyers
and friends gather at Ekeberg, Oslo for an informal practice weekend.
Hopefully the weather will be nice and bring out the best conditions for flying.
If you want to take a closer look at team flying in action, please drop by. We'll be on the field from approx. 11:00 am both days .... unless it's bucketing down

See you at Ekeberg!
Keywords: events